Tridanse: a regional route of choregraphic residency
Tridanse is a national call for projects from five regional structures in three departments. It is the only program in the Provence-Alpes-Côte d'Azur Region that pools resources to support a transdisciplinary choreographic production. The member institutions of Tridanse are: le Vélo Théâtre, Scène Conventionnée théâtre d'objet (Apt, Vaucluse), Ilotopie/le Citron Jaune (Port-st-Louis du Rhône, Bouches-du-Rhône), Le 3 bis F, lieu d'arts contemporains (Aix-en-Provence, Bouches-du-Rhône) expanded each year to a new entrant from the PACA Region: in 2015 and 2016, la Passerelle Scène Nationale (Gap, Hautes-Alpes), in 2016 and 2017, le Théâtre Durance, scène conventionnée (Château-Arnoux-St-Auban, Alpes-de-Haute-Provence).
Access the Tridanse 2021 call for projects
Nominations before February 15th, 2020
Tridanse wants to experiment with a new way of circulating artistic objects in the Region. It incorporates the issue of co-production, but also wants to discuss artistic issues and the relationship to the public. It is part of a non-commercial approach to the relationship with art, and relies on a dynamic of exchange and co-construction between artists and places.
Following the reception of the files (on average 80 per year), a professional choreographic company, an artist-dancer or a performer is selected. He / she works in residency three times in the year, in three different places. He/she is supported by welcoming structures, and can even show the work in process at the end of the residency. Ideally, the finalized work is subsequently programmed.
Tridanse 2019 (14th edition)
---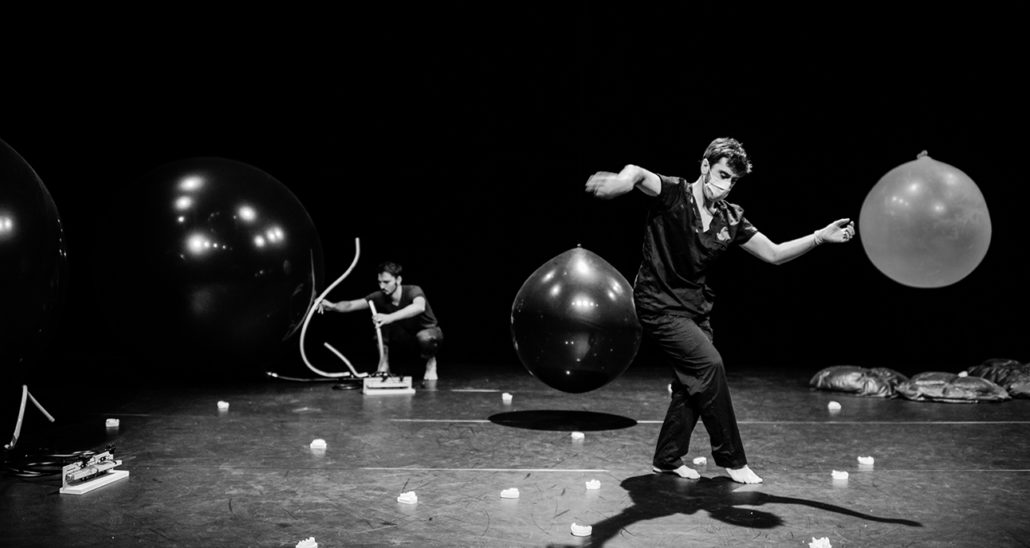 L'EQUILIBRE DES HUMEURS / Full Gop (Région Sud)
En 2019, le dispositif accompagne la compagnie Full Gop pour son projet de création "L'équilibre des humeurs",duo chorégraphique et sonore.
Pierre-Benjamin Nantel, chorégraphe, et Octave Courtin, plasticien sonore, poursuivent ici un questionnement autour des notions de soins et de santé. Ils chercheront dans cette nouvelle création des moyens de rendre ambiguës et ambivalentes les postures du guidant et du guidé, du soignant et du soigné. Ils tenteront ainsi de créer une expérience immersive, corporelle et acoustique où les espaces et les sensations évolueront au fur et à mesure des rapports qui seront mis en jeu entre les performeurs, le dispositif et le public.
Conception et réalisation : Pierre-Benjamin Nantel, Octave Courtin
Suivi dramaturgique : Marilyse Navarro
Etapes de travail
jeudi 11 et samedi 13 avril 2019 à 15h / 3bis F – lieu d'arts contemporains à Aix-en-Provence
mardi 7 mai 2019 à 19h / Vélo Théâtre – scène conventionnée à Apt
Création
2020
Tridanse 2018 (13th edition)
---
IMAGO-GO/ [lodudo] produccion (Occitanie)
En 2018, le dispositif accompagne Marta Izquierdo Muñoz [lodudo] produccion pour son projet de création "Imago-go".
Avec un bâton de majorette pour colonne vertébrale, IMAGO-GO passe un héritage au révélateur des loisirs pratiqués en famille. Depuis ces premières créations, Marta Izquierdo Muñoz travaille, par la danse et la performance, en regard de personnages féminins ambigus, à la jonction entre marges et cultures populaires. Elle s'intéresse ici à la figure de la majorette et plus précisément au glissement d'un modèle lisse et idéalisé par les productions américaines vers une pratique locale et familiale. Au-delà de la pratique du bâton et de la marche en cadence, les majorettes sont supports de nombreux imaginaires : de la femme sexy à la femme poupée, en passant par la femme militaire…Figures tragi-comiques, elles ne sont ici ni imitées, ni parodiées, mais incarnées. Ces modèles sont hybridés avec les interprètes eux-mêmes, lesquels – danseurs et performeurs – ouvrent une pluralité de perspectives.
Conception et chorégraphie : Marta Izquierdo Muñoz – Avec : Adeline Fontaine, Fabien Gautier, Erwan Hakyoon Larcher, Eric Martin, Angèle Micaux – Dramaturgie : Youness Anzane
Résidences et ateliers
19-28 mars / 3 bis f – étape de travail le 24 mars à 15h
9-15 avril / Vélo Théâtre – étape de travail le 14 avril à 19h
5-14 juin / Le citron jaune – étape de travail le 14 juin à 19h
24-29 septembre / Théâtre Durance – étape de travail le 27 septembre à 19h
Création
Mardi 6 novembre 2018 / Manège, Scène nationale de Reims
Vendredi 8 mars 2019 / Théâtre Durance
https://velotheatre.com/wp-content/uploads/2017/12/Logo_VeloTheatre_SC_BlancRouge_HZ5.png
0
0
velo theatre
https://velotheatre.com/wp-content/uploads/2017/12/Logo_VeloTheatre_SC_BlancRouge_HZ5.png
velo theatre
2018-12-19 16:58:08
2020-02-06 17:13:30
Tridanse (Dance)