La Compagnie du Pestacle (Région Sud)
Musical theater for very young public from 2 years old (intended for the nurseries of the Pays d'Apt and all public) – length: 30′
"SOUS LA LUNE"

An ode to the imagination and the dreams of children at bedtime, this particular moment generating frustrations, sometimes anguish, but also a moment of appeasement and comfort, until waking up. 
A travers ses textes et ses musiques et dans un décor simple et ludique où les murs vivent et bougent, le spectacle nous plonge dans les songes d'enfant, du moment du coucher, générateur de frustrations, d'angoisse parfois, mais aussi d'apaisement et de confort, jusqu'au réveil. Une ode à l'imaginaire, un espace d'éveil des sens pour les tout-petits, un moment pour prendre le temps de se laisser gagner par la sieste et la beauté des petites choses merveilleusement simples.
Avec : Aude Marchand et Mélissa Zantman
Mardi 4 février à 15h et mercredi 5 février à 16h à la salle des fêtes de Caseneuve – gratuit (réservation obligatoire)
Réservations : Vélo Théâtre – reservation@velotheatre.com – 04 90 04 85 25
---
Le spectacle très jeune public de la Compagnie du Pestacle est une proposition du Conservatoire de Musique Pays d'Apt Luberon, en partenariat avec le Service Jeunesse et Petite Enfance de la Communauté de Communes Pays d'Apt Luberon.
---
mise en scène, chansons et arrangements Sara Giommetti et Aude Marchand
interprétation Aude Marchand et Mélissa Zantman
régie Bruce Brunetto
décors Agathe Le Turcq
ombres chinoises Carole Tricard
affiche Cécile Perra
lumières Louise Gibaud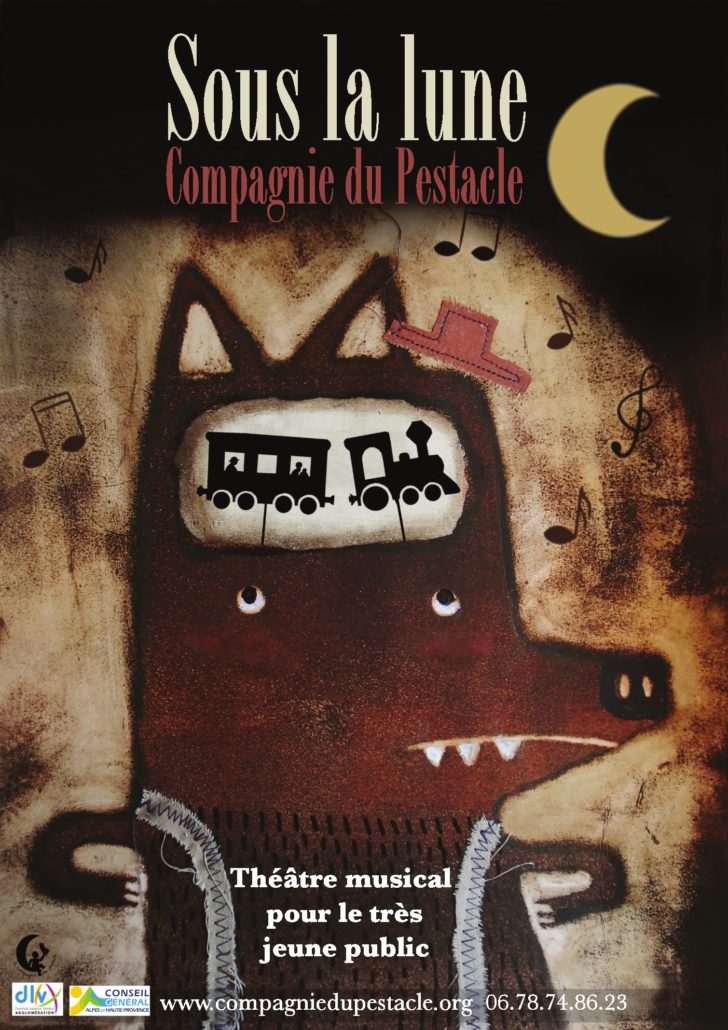 https://velotheatre.com/wp-content/uploads/2019/10/Sous-la-lune-2-_carre.jpg
3162
3161
velo theatre
https://velotheatre.com/wp-content/uploads/2021/11/Velo_Theatre_LOGO-OFFICIEL_couleur.jpg
velo theatre
2019-11-01 10:20:41
2019-11-25 07:49:18
February 4th & 5th "Sous la lune"