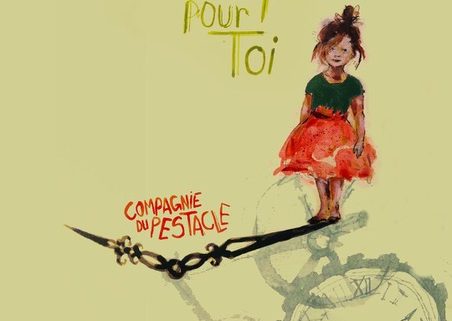 Compagnie du Pestacle (Région Sud)
Musical theater for children from 6 months old – length: 20′
"UN TEMPS POUR TOI" 

A visual and sound exploration of time, in a light, soft and joyful form and a setting that evokes both the carousel and the gazebo, the merry-go-round and the bird house.
Tic-tac font les aiguilles, chantent et dansent garçons et filles… C'est le temps qui passe ! On tape, on chante, on danse, et ensemble on apprend à grandir, chacun à sa façon. Les métronomes deviennent chansons, les percussions corporelles répondent aux cloches, une boîte à musique mécanique résonne sur le tambour, et nous voilà traversant ce temps qui passe, pour en explorer chaque seconde, chaque saison, et contempler. Une exploration visuelle et sonore du temps, dans une forme légère, douce et joyeuse et un décor qui évoque à la fois le carrousel et la gloriette, le manège et la maison des oiseaux.
De et avec Aude Marchand et Mélissa Zantman.
Etape de travail : vendredi 25 septembre à 10h – gratuit (nombre de places limité)
Réservations : Vélo Théâtre – reservation@velotheatre.com – 04 90 04 85 25
---
En partenariat avec le service Petite Enfance et Jeunesse de la CCPAL et le Conservatoire de Musique Pays d'Apt Luberon.
La Compagnie du Pestacle est en résidence de création à Apt du 21 au 25 septembre 2020.
---
de et avec Aude Marchand et Mélissa Zantman
lumières Bruce Brunetto
décors Hervé Courgeon
https://velotheatre.com/wp-content/uploads/2020/07/Un-temps-pour-toi-Affiche-TT-provisoire.jpeg
640
452
velo theatre
https://velotheatre.com/wp-content/uploads/2021/11/Velo_Theatre_LOGO-OFFICIEL_couleur.jpg
velo theatre
2020-07-04 16:38:47
2020-08-04 16:39:50
Friday, September 25th "Un temps pour toi"