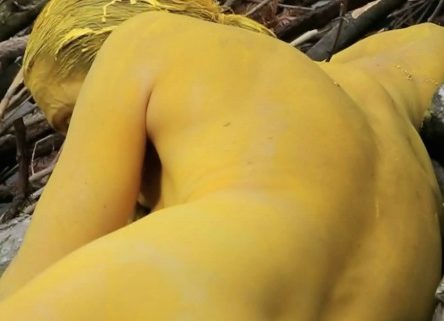 Die Donau (Île-de-France)
Contemporary dance – all public from 14 yeras old – length: 1hr
"JUSTE AU CORPS – SALOME"

A solo inspired by three Jewish women. Three extraordinary, controversial and condemned figures: Valeska Gert, Hannah Arendt and Salomé.
Un solo inspiré par trois figures, trois femmes juives, extraordinaires, controversées, combattues et condamnées pour leurs actes sans concession : Valeska Gert, danseuse cabarettiste, comédienne et écrivaine dans les années 20, à Berlin, qui scannait la société et la danse de son temps… (Rarement public avait vu pareils sauvagerie et miroir… ), Hannah Arendt, la philosophe et théoricienne qui explorait les mécanismes conduisant l'homme à commettre l'impensable, et Salomé qui voulait la tête de St-Jean-Baptiste, telle que décrite par Oscar Wilde et ses différentes sources. Progressivement et à travers les mots et positions de chacune de ces trois femmes, la chorégraphe et interprète révèlera son histoire personnelle, fictionnelle et irrévérencieuse, joyeuse aussi. L'occasion de faire exploser son histoire d'artiste allemande… Une proposition à la fois violente, émouvante et intime…
De et avec Andréa Sitter
Samedi 8 février à 20h30
Plein tarif : 12 euros / "rayon de vélo" : 8 euros / réduit : 5 euros
Réservations : Vélo Théâtre – reservation@velotheatre.com – 04 90 04 85 25
---
Création juin 2019 de la compagnie Die Donau. 
---
conception, chorégraphie, texte et interprétation Andrea Sitter
lumière Flore Dupont
musique Bela Bartok, Richard Strauss, Deep Purple, Doumé C.
vidéo Doumé Castagnet
costumes Andrea Sitter et Michel Ronveaux
voix off Ivan Mérat-Barboff
compagnonnage artistique et administration Philippe-Ahmed Braschi
coproduction
CCN de Tours, Direction Thomas Lebrun
Le Vaisseau – Vertical Détour
coréalisations et mises à disposition d'espace
La Manufacture (Aurillac), le Centre de danse du Marais (Paris), Le Vaisseau
(Coubert), micadanses (Paris), CCN de Tours, CDCN Le Gymnase (Lille), le Théâtre
l'Echangeur (Bagnolet)… liste provisoire
https://velotheatre.com/wp-content/uploads/2019/11/salome_carre.jpg
445
444
velo theatre
https://velotheatre.com/wp-content/uploads/2021/11/Velo_Theatre_LOGO-OFFICIEL_couleur.jpg
velo theatre
2019-11-01 09:24:54
2019-11-23 09:37:41
Saturday, February 8th "Juste au corps - Salomé"