Greli Grelo — Biennale Festival of Object Theater
11th edition from February 28th to March 4th, 2020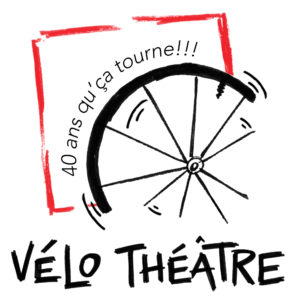 This year you have got two good reasons to come and join us in Apt: we are celebrating the 11th anniversary of our object theater festival, Greli Grelo, and the 40th of the Vélo Théâtre!
Whatever your age, alone or with your family, do not hesitate to enter the theater to share emotions during live performances.
This year we are pleased to program artists from Italy, Germany, Scotland and different French regions. Their object theater, theater of the intimate, will invite us to open our imagination on sensitive territories where each of us can travel …
Come on in! The Vélo Théâtre team is there to welcome you. Nice festival to everyone.
Charlot Lemoine, Artistic Director
January 2020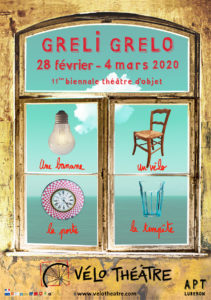 WEDNESDAY, FEBRUARY 26th

from 9:30 am to 12:00 pm and from 2:30 pm to 5:30 pm at the Museum of Apt: Manufacturing workshop
THURSDAY, FEBRUARY 27th

from 2:00 pm to 5:30 pm at the Museum of Apt: Manufacturing workshop
FRIDAY, FEBRUARY 28th

from 2:00 pm to 5:30 pm at the Museum of Apt: Manufacturing workshop
3:30 pm at Vélo Théâtre (Apt): Ombres électriques
6:00 pm at the Salle des Fêtes of Apt: Enveloppes et déballages + festival opening
from 7:30 pm to 8:30 pm at Vélo Théâtre (Apt): inauguration of the exhibition Travel-lllling
7:30 pm at Vélo Théâtre (Apt): Travel-lllling
8:00 pm at Vélo Théâtre (Apt): Travel-lllling
8:30 pm at Vélo Théâtre (Apt): Ombres électriques
9:30 pm at Vélo Théâtre (Apt): Travel-lllling
SATURDAY, FEBRUARY 29th
11:30 am at Vélo Théâtre (Apt): Travel-lllling
12:00 pm at Vélo Théâtre (Apt): Travel-lllling
from 12:30 to 2:00 pm at Vélo Théâtre (Apt): meal + Le grand manteau d'Augustine
2:00 pm at Vélo Théâtre (Apt): Travel-lllling
3:00 pm at Vélo Théâtre (Apt): Atlantis Banal, Beneath the Surface
4:00 pm at Vélo Théâtre (Apt): Travel-lllling
7:00 pm at Vélo Théâtre (Apt): Travel-lllling
from 7:30 pm to 8:30 pm at Vélo Théâtre (Apt): meal + Le grand manteau d'Augustine
8:30 pm at Vélo Théâtre (Apt): Conversation avec nos ancêtres
9:30 at Vélo Théâtre (Apt): little party
SUNDAY, MARCH 1st

11:00 am at the Salle des Fêtes of Saint-Saturnin-lès-Apt: Sous la lune
11:00 am at Vélo Théâtre (Apt): How does it sound?
12:00 pm at Vélo Théâtre (Apt): Travel-lllling
from 12:30 to 2:00 pm at Vélo Théâtre (Apt): meal
2:00 pm at Vélo Théâtre (Apt): Travel-lllling
2:30 pm at Vélo Théâtre (Apt): Travel-lllling
from 4:00 to 5:00 pm at the library Le Kiosque (Saint-Saturnin-lès-Apt): snack + inauguration of the exhibition Variations
4:30 pm at Vélo Théâtre (Apt): Travel-lllling
5:00 pm at the Salle des Fêtes of Saint-Saturnin-lès-Apt: On était une fois
MONDAY, MARCH 2nd

10:30 am* at Vélo Théâtre (Apt): Travel-lllling
11:00 am* at Vélo Théâtre (Apt): Travel-lllling 
2:00 pm* at Vélo Théâtre (Apt): Atlantis Banal, Beneath the Surface 
2:00 pm* at the Chapelle des Carmes (Apt): On était une fois
from 2:00 to 4:00 pm* at the library Le Kiosque (Saint-Saturnin-lès-Apt): Variations
3:00 pm* at Vélo Théâtre (Apt): Travel-lllling 
3:30 pm* at Vélo Théâtre (Apt): Travel-lllling 
from 4:00 to 7:00 pm at the library Le Kiosque (Saint-Saturnin-lès-Apt): Variations
*for schools
TUESDAY, MARCH 3rd

9:00 am* at Vélo Théâtre (Apt): Je brasse de l'air 
10:00 am* at the Chapelle des Carmes (Apt): On était une fois
from 10:00 am to 1:00 pm at the library Le Kiosque (Saint-Saturnin-lès-Apt): Variations
10:30 am* at Vélo Théâtre (Apt): Je brasse de l'air
2:00 pm* at Vélo Théâtre (Apt): Atlantis Banal, Beneath the Surface
from 2:00 to 7:00 pm at the library Le Kiosque (Saint-Saturnin-lès-Apt): Variations
3:00 pm* at Vélo Théâtre (Apt): Je brasse de l'air 
7:00 pm at the Chapelle des Carmes (Apt): On était une fois
7:30 pm at Vélo Théâtre (Apt): Travel-lllling
from 7:30 to 8:30 pm at Vélo Théâtre (Apt): meal
8:30 pm at Vélo Théâtre (Apt): Petits suicides
9:30 pm at Vélo Théâtre (Apt): Travel-lllling
*for schools
WEDNESDAY, MARCH 4th

10:00 am* at the Chapelle baroque of the Conservatoire (Apt): Sous la lune
11:00 am at Vélo Théâtre (Apt): Je brasse de l'air
3:00 pm at the Chapelle baroque of the Conservatoire (Apt): Sous la lune
3:00 pm at Vélo Théâtre (Apt): Je brasse de l'air
4:00 pm at Vélo Théâtre (Apt): Travel-lllling
5:00 pm at Vélo Théâtre (Apt): Atlantis Banal, Beneath the Surface
6:00 pm at Vélo Théâtre (Apt): Travel-lllling
7:00 pm at Vélo Théâtre (Apt): Petits suicides
8:00 pm at Vélo Théâtre (Apt): Travel-lllling
from 7:45 to 8:30 pm at Vélo Théâtre (Apt): meal
8:30 pm at Vélo Théâtre (Apt): Je brasse de l'air
9:30 pm at Vélo Théâtre (Apt): Travel-lllling
10:00 pm at Vélo Théâtre (Apt): closing party
*for schools
Interesting links
Here are some interesting links for you! Enjoy your stay :)